Karin Gemfors….. she's a kick ass voice coach. She is. She taught me to sing. Just imagine that. Kick ass! But she is a graduate of the musical university in Stockholm and she plays the piano as well. Very nicely, too.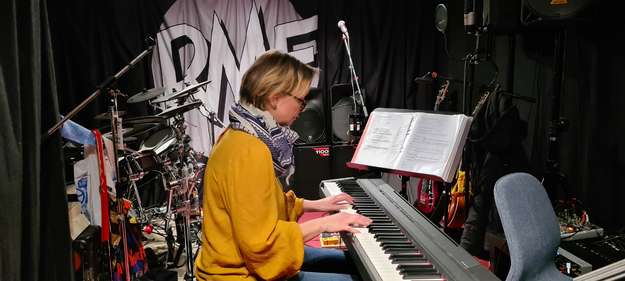 The day before yesterday I was in her little studio to practice singing again. This time I had a slow and a little sad song with me. I often involve her early in my composing. Often she has good tips on what to do with it. And…. she is usually honest. And she was again. She said "-It's a beautiful melody but…. I started thinking of other thing while listening". Yeah, a said, "- It's kind of boring" trying to cover that, "-I want to speed it up. And it was in 6/8 from start" I said. She smiled. "-I love 6/8", she said. And then she played it fast, in 6/8 and in a way that made the hole thing just… flow. Beautiful! So I asked her…almost for fun…. "-What are you doing on Wednesday?" "-Not much" she said. "-Do you want to come to the studio and record it?" I hoped she would not laugh. She did not."- Yes she said. I'll be there."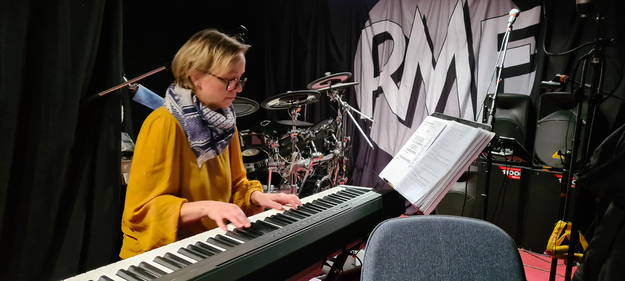 Woaw! My first professional musician in the studio. Nice! And it was. She sat down at my Yamaha Stage piano and just banged away! Flowing notes that changed in intensity as she played along. I recorded, recorded and recorded…. everything. So now I have material for a new single. Take My Hand I changed the name to today. It's cheerful an up tempo.
I have to finish the demo for the single Time first before working on Take My Hand. And right now it feels…. just a little boring. But I'll get there.
/Happy Gus